We can all agree baby carriers are a blessing when travelling! They're great in many ways, practically and scientifically, for you and your baby.
Ergobaby carriers allow you to carry your child with comfort while going about your day. Whether going to the park or doing chores? Just Strap them in, and you're good to go. We don't need those bulky strollers here. Plus, the best part? Goodbye, hand cramps!
It depends upon your needs, different carriers design and manufactures respectively. That is why it's important to determine the best Ergobaby carrier as per your needs. You might find several Ergobaby carriers depending on factors like age or size of the child, body type, or just a personal preference.
Though do you know what they all have in common?
The stubborn stains.
Over time your baby carrier will be the victim of all the dirt, sweat, and spill. Must remove the gunk on the carrier as soon as possible. Therefore it will not stain your baby carrier in the long. And keeping your baby in a filthy carrier, that's a big no-no.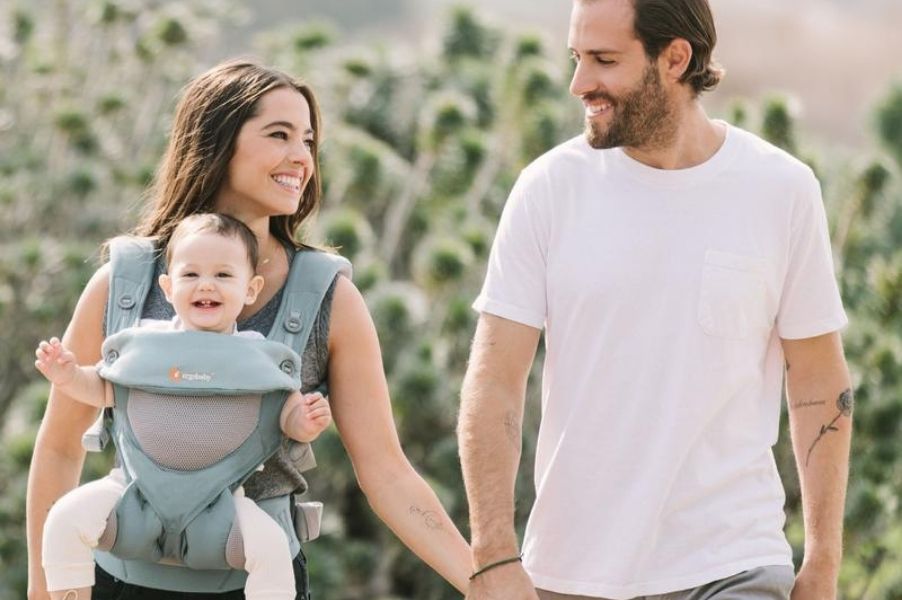 How to clean ErgoBaby carrier?
When washing Ergobaby carriers, remember that all baby carriers are not the same even if they look the part. The baby carrier your mom used for you might have sustained the certain detergent, but it doesn't mean it'll work out for you as well.
The fabric and build of a baby carrier are what dictate how you should handle it. Even though ergo baby carriers are built to last ages, materials of the carrier get considerably delicate over time because they are handled roughly, thus requiring careful handling to maintain their color, texture, and pattern.
Things to consider before washing ErgoBaby carrier
The type of fabric
It carries the same rule as everyday clothing. Different fabrics require different handling. It's important to understand the materials used in the construction of carriers. Knowing this will help you understand how to clean it.
In addition, often, it's made of a blend of fabrics. If so, the Blends must be clean according to the most sensitive fabric in the blend. This way, you'll extend the life of all the fabrics in the carrier.
The detergent
To keep the color and integrity of your carrier fabric, you have to use a gentle yet efficient detergent. It's best to use a liquid detergent that does not contain bleach or a whitening agent to avoid colors from ragging. 
Determine the structure and build
Many parents would prefer a soft structured baby carrier, and rightfully so. But keep in mind that these types of carriers tear down if handled roughly. The structure and build determine if the baby carrier is safe to be washed in a machine or needs extra care and hand washing.
Parents also read: Which is better, baby wrap or baby carrier? [Answered]
How to wash ergo organic baby carrier?
Ergo 360 washing instructions are fairly easy. All you have to do is you'll want to make sure you're following correct cleaning instructions so it doesn't get damaged and can withstand the strain of your kid. For all of you wondering, 'is ergo baby carrier machine washable?' yes, it is! It makes it even easier to wash!
12 easy steps of ergo baby washing instructions (with some helpful tips)
Before cleaning, make sure all buckles outside of the elastic safety strap are closed. It will prevent the straps from getting tangled with each other.
Detach parts separately from the carrier and open all the zips to wash thoroughly inside and out.
To lower the chance of the straps getting distorted, put them in a thin pillow cover or a mesh lingerie bag. The case will further shield the threads and seams of the baby carrier and save it from the rough spins.
Put all the pieces in the pillowcase and knot the end to keep the pieces from falling out.
Wash your carrier in a mild liquid detergent, which is devoid of optical brighteners. Powder-based detergents, which do not fully break down in the wash, might weaken the fibers through friction, thus should be avoided.
Wash Using cold water and a moderate cycle (i recommend a wool wash). Place in the dryer for around 20 minutes.
Remove while the seams are still damp after drying on a delicate cycle.
Hang it up. Take a towel and pat the baby carrier lightly. The towel will soak up the excess moisture from the dense areas and allow it to dry faster.
.Let it air- dry somewhere warm and sunny (drying in a dark area takes more time). Avoid putting it under direct sunlight, or else it'll fade the colors.
If you plan on doing a regular wash, make sure you use the same color detergent.
Make sure not to add any other clothing with the baby carrier to avoid inking.
Should use no fabric softener. Because the bleach and fragrances, if used with detergents, can linger chemicals in the cloth even after washing. Babies chew on their carriers a lot when worn, so it's a good idea to keep an eye on them to make sure they're not eating any toxins.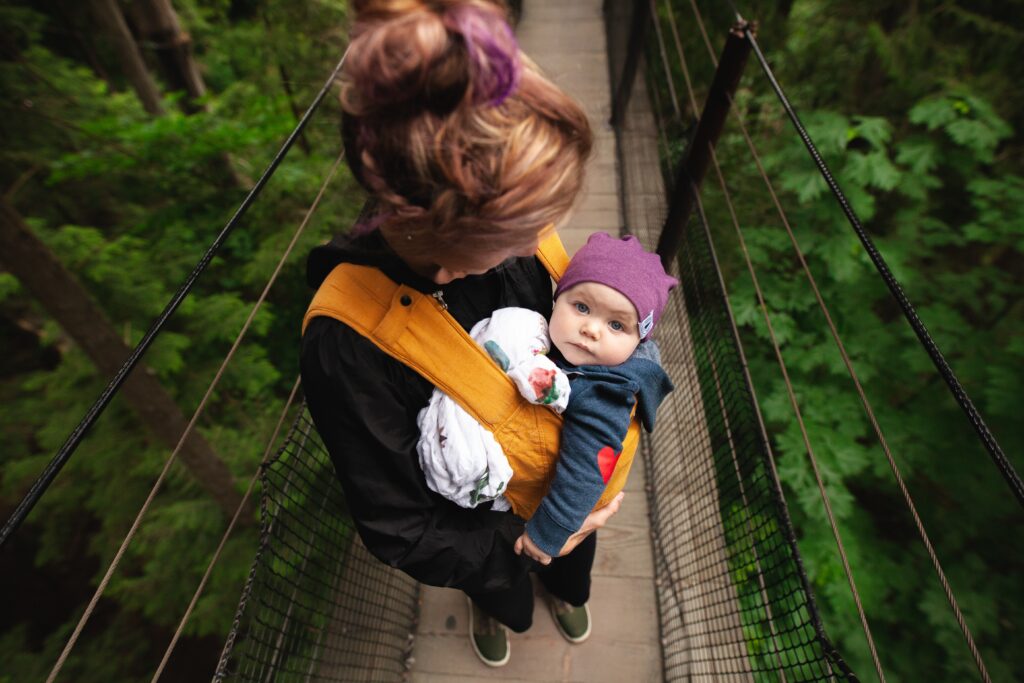 How to wash Ergo infant insert?
Does your baby carrier have an infant insert, and you're wondering how to wash it? Here's how to wash Ergo infant insert?
Infant inserts are there to adjust the body of the baby and help them snuggle comfortably. Same as the other parts of the carrier. It would be best if you detached it from the carrier first. Once you complete, use the same instruction mentioned above, and you're good to go.
And so, you're done! You'll have your baby carrier brand new for years to come because you know how to wash ergo baby Omni 360 properly with all the precautions—keeping you from damaging your beautiful carrier in the process.
But do you think only spits and spills are what shorten the durability of the ergo baby carrier? Baby carriers are in rough use. Even with the most efficient wash cycle, your baby carrier is exposed to numerous elements that eventually destroy it.
The solution? Washing the ergo baby carrier isn't enough! You need to keep it safe from things that can harm your expensive baby carrier.
Five solutions that can save your ergo baby carrier
1. Get teething pads for your baby
When a baby begins to teethe, they may begin sucking on the carrier's straps because it's right there, waiting to be devoured by tiny mouths. As they begin to teethe, the PH of their saliva also changes.
Fortunately, teething pads for the straps are available, as well as special teething pads and bibs to preserve your carrier. You can even get one with the ergo 360 baby carrier. You can now let your baby suck the teething pad as much as their heart desires! Just toss it in the machine for quick cleaning instead of having to wash the whole carrier.
2. Always carry a gentle wash
The delicate fibers of the baby carrier need good care. Never wash it over 30 degrees. You might get tempted to throw it in the air dryer when you're running late or feeling lazy. But you'll only end up tearing up your baby carrier.
It is also recommended not to wash too often. Washing it breaks down the fibers as well as damages the color. Only wash when necessary.
3. Never leave it in the car
Leaving your baby carrier in the car is usually convenient, but the car's harsh temperatures can be tough on a baby carrier. Instead of leaving your carrier in the car, place it near the entrance on a hook. Then you're ready for anything, whether it's performing tasks around the house or running errands to the store with a baby in tow.
4. Wash the areas that are needed
Since you can't wash your baby carrier daily, it doesn't mean you have to leave it filthy. Baby carriers get stained easily. And if you don't treat the stains immediately, it'll get permanent. Remind that time when you spilled your soda on the carrier every time you wore it.
No worries, there's a simple way to get rid of those ugly stains. Take some baking soda and mix it with the detergent you use. Get a soft-bristled toothbrush and use it to rub the mixture gently over the stain. After then, take a wet cloth and then rinse the area.
Your baby carrier will be good as new and no embarrassing reminders!
5. Fold the baby carriers when not in use
Baby carriers have a great lifespan. Suppose they're kept properly, of course. If you don't use it to carry your children anymore, it's smart to tuck it away somewhere to use again in the future. And no, it doesn't mean you should shove it in your closet.
You must first roll all the loose straps and fasten with the attached elastic to fold the carrier. Next, fold the carriers (or the handles). Roll the carriers inward and then gently but firmly roll the carrier continuing the motion. Take a plastic bag and seal it shut after bagging the carrier in it.
After that, you can keep it anywhere you can, be it a box, closet, or attic. Your baby carrier will stay good and new for years.
Summing up…
This guide is all you need to know about how to wash ergo baby 360. You can now stretch the years of the durability of the ergo baby carrier. We've illustrated how to clean the ergo baby carrier and maintain it as well so you can keep on wearing it like a proud parent with your baby snuggled in close.
Parents Also Ask
How do you clean an Ergo diaper bag?
Remove everything from your diaper bag. To remove any crumbs or debris, empty it into a garbage bin and shake it a few times. Vacuum the inside of your bag to get rid of any stray hair or dust you might have missed. Lightly moisten a clean cloth with water and use it to rub the exterior of your bag.
You cannot clean the Ergo diaper bag in the machine. It is water repellent which can clean fabric easily. All you have to do is clean with warm water and mild detergent. Don't soak or place directly under running water. Once done, leave it to air dry.
How long can you use Ergo 360?
With its lumbar-support waist belt and padded shoulder straps, the All Positions Carrier is one of the best Ergo baby carriers for back support. The 360 All Positions carrier, like all Ergobaby baby carriers, can be used from birth (with the Ergo baby Infant Insert) up to 45 pounds (3.2 to 20 kg).
The baby's weight is evenly divided between the shoulders and waist, allowing for long durations of comfortable carrying. Ergo 360 is built to carry through many years. So it has a wealthy life span. However, which can only achieve with proper care.
How do you disinfect a baby carrier?
You can wash a baby carrier before the first usage if any doubt, but not after each use. Most manufacturers merely state that carriers should wash as per need. You can use a moist towel, mild detergent or soap, and warm water to clean ergobaby carrier.
Make sure you're not using any harsh chemicals or fabric softeners. It will snuggle your baby in the carrier. Using any harsh chemical can leave behind toxins and fumes, and you don't want your baby to inhale. It's best if you follow the guidelines of the manufacturer.
How do I dry my Ergo 360 Omni?
It's best to air dry your ergo 360 Omni baby carrier. When it's done washing, hang it out to dry. You can also use a towel to pat the overly damp and thick areas of the carrier. Put it somewhere that has some light and warmth. Keeping it in the dark area takes longer to dry. Never put your baby carrier directly under the sun. The harsh rays will fade the color of the delicate fabric.
Do you need to wash the baby carrier before use?
No, I do not recommend you to wash your baby carrier every time. In Fact cleaning, very often can wear out the carrier and thus tear it down quickly. Washing Ergobaby carriers every once in a while is more than enough. If you're concerned about the spots or your baby sucking on the dirty steps, you can treat them separately.
You can get baby teething pads and attach them to the straps. Your baby will suck on the pad instead of the strap. You'll only need to give the pad a quick spin instead of the whole carrier. Use liquid detergent solution or just warm water to rub off the spots quickly. Be gentle; use a soft-bristled toothbrush or just a damp cloth.