Finding the right baby bottle can be challenging for parents, as many options are available. If an inappropriate bottle is chosen, it can cause issues with feeding like distress, nipple confusion and inconsistent flow rate.
After trying several different brands, I have come to the conclusion that Comotomo bottles are one of the best options for my baby in terms of ease of use, leak-proof design, and comfort for both baby and parent. In this article, I'll share everything, according to my experience, all about Comotomo bottles and what they offer – their features, benefits, and any shortcomings. We'll comprehensively explore Comotomo feeding bottles to help you make an informed decision.
Quick snapshot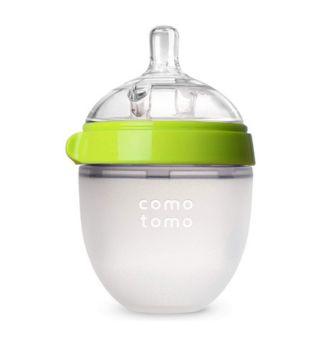 Specifications:
| | |
| --- | --- |
| Suitable for | Newborn to 18 months |
| Nipple | Slow, Medium, Fast |
| Color | Green, Pink |
| Weight | 0.32 lbs, 0.38 lbs |
| | |
| --- | --- |
| Capacity | 5 oz (150 ml), 8 oz (250 ml) |
| Material | Silicone, BPA/phthalates free |
| Country of origin | Republic of Korea |
| Package Dimensions | 3.12 x 3.06 x 6.25 inches |
✨ Who is Comotomo bottle for?
If your baby rejects every bottle and wants only breastfeeding, then he might easily take up the Comotomo bottle because of its breast-like material. Comotomo bottles not only take care of the color and design, but it also dramatically considers the feel or experience of the babies. They have been created to replicate the shape and feel of a mother's breast and constructed using medical-grade silicone which is non-toxic and free from any harmful chemicals. Thus, Comotomo bottles are highly recommended if your baby is transitioning from breast-feed to bottles.
However, parents who prioritize natural materials and worry about potential adverse health effects of traditional plastic baby bottles often opt for alternative options.
Comotomo bottle review
To start, Comotomo bottles are unique, squishy, silicone-made, heat-resistant bottles that you may not see very often. These bottles could be a big help for you and your baby to shift from breastfeeding to bottle feeding easily. 
The babies who breastfeed  don't want to accept anything for feeding except for their mom's breasts. Comotomo bottles are designed specifically to cater to such issues.
The Comotomo bottles include different parts such as a nipple, bottle base, cap, and nipple ring. All are easy to assemble and disassemble.
Features of the Comotomo Bottles
With a soft, silicone body that mimics the feel of breastfeeding, a wide-nipple base for easy latching, and an innovative venting system to reduce colic and gas, I believe Comotomo bottles prioritized your baby's comfort during feedings when they designed the bottle. Here are the main areas I think you should be aware of:
Structure
The Comotomo bottles are easy to wash and clean, thanks to their substantial structure; but due to the same reason, they don't fit in most bottle warmers. This could be deal-breaking if you have bought a bottle warmer before the Comotomo bottles. 
The nipple of the bottle is also wide to mimic the mom's nipples so that your baby thinks he's still feeding from the mom's breast. 
Usability
With easy-to-clean and easy-to-construct features, the Comotomo bottles are one of the most straightforward baby milk bottles you may come across. Bottle brushes are not required to clean the Comotomo bottles. If you think it's time for your baby to switch to the faster flow nipple, you can grab any Comotomo nipple, and it will fit nicely on the bottle. You can use any nipple for 5-ounce and 8-ounce milk bottles. It relieves all mothers from the hassle of switching bottles to simply changing the nipples.
Performance
The Comotomo bottles are leak-proof and are available for babies of every age. No matter how and where you put it in the bag, the milk will never spill outside of the bottle.. The chances of sucking in air by the babies are also minimal due to the anti-colic vents on the nipple's sides. That's why a baby will not get gas, spit-up or indigestion issues. 
Design
The Comotomo bottles come in unique, attractive, and modern designs. These bottles are lime green with perfectly rounded smooth edges, a vast circular mound and a silicone squashy gray bottom. These features altogether make the Comotomo bottle unique and cute to hold. However, the measurement markings are difficult to read on the bottle due to their opaqueness, and it getseven harder to read them at night. Furthermore, I have found out that due to the rounded design, the bottle can often topple over if not held or placed properly.
Materials and Available Sizes
You can grab the Comotomo bottles from sizes between 05 oz to 08 oz. Choose the size according to your baby's age, needs, and feeding capacity. The body of the Comotomo bottle is made up of polyphenyl sulfone (PPSU) which offers better heat resistance, sterilization, chemical resistance, and hydrolytic stability. Moreover, the cap and outer ring of the bottle are made up of polypropylene. 
Comotomo Nipples
The Comotomo nipple is not ordinary. It is made up of medical-grade silicone. It is explicitly made to focus on the health of the baby. As the nipples go inside the baby's mouth, its medical-grade silicone ensures that no germs and bacterial growth is present on the nipple. 
The nipple also contains anti-colic vents. The nipple has four different flow-rate options; you can choose them according to the age and needs of your baby. 
The slow flow rate is for babies 0-3 months old.
The medium flow is for babies of 3 months or more.
Fast flow is for babies of 6 months or more.
The variable flow is for babies of 8 months or more. 
Pros of Comotomo bottles
✅ The Comotomo bottles are squishy and squeezable; your baby will find them playable as a toy.
✅ The cleaning of these bottles is easy due to the wide neck design.
✅ Your baby cannot swallow air while sucking the milk due to the anti-colic properties of the bottle.
✅ It has a silicone body.
✅ It has a breast-like nipple.
✅ These bottles are lightweight.
Cons of Comotomo bottles
❌ The Comotomo bottles are expensive.
❌ The Comotomo bottles don't fit in every bottle warmer due to their wide neck.
❌ It isn't easy to heat the milk quickly in the Comotomo bottles.
❌ It isn't easy to read the volume markings, especially at night.
❌ The base of the bottle is narrow.
Does using Comotomo bottle interfere with breastfeeding attempts?
Breastfeeding , although a beautiful and natural process,  is not as easy as it might seem. Mothers try different latching techniques to understand the ground of breastfeeding, and when the babies finally connect with the process, the bottle feeding time arrives. 
No matter how devoted a breastfeeding mother you are, you will need bottle feeding sometimes. It is wise to keep multiple milk bottles around to rely on. 
Buy the milk bottles that should:
Mimic the breastfeeding experience for the baby so that he can accept the feed immediately. 
Contain anti-colic properties. Read more about the advantages of anti-colic properties.
Easy to clean. 
Affordable. 
What do parents think about Comotomo bottles?
Parents have mixed views regarding the Comotomo bottles, but most parents like using them. 
Parents are happy due to its similarity with the mother's breasts; they say their baby doesn't differentiate between both and happily feeds from the bottle. 
Parents are glad to have a bottle that prevents colic and gas issues. 
Parents also like the unique design and squishy bottle of Comotomo. 
At the same time, parents are worried about the time it takes to warm the bottles.
Parents are unhappy with the light volume measurements as they cannot see them properly.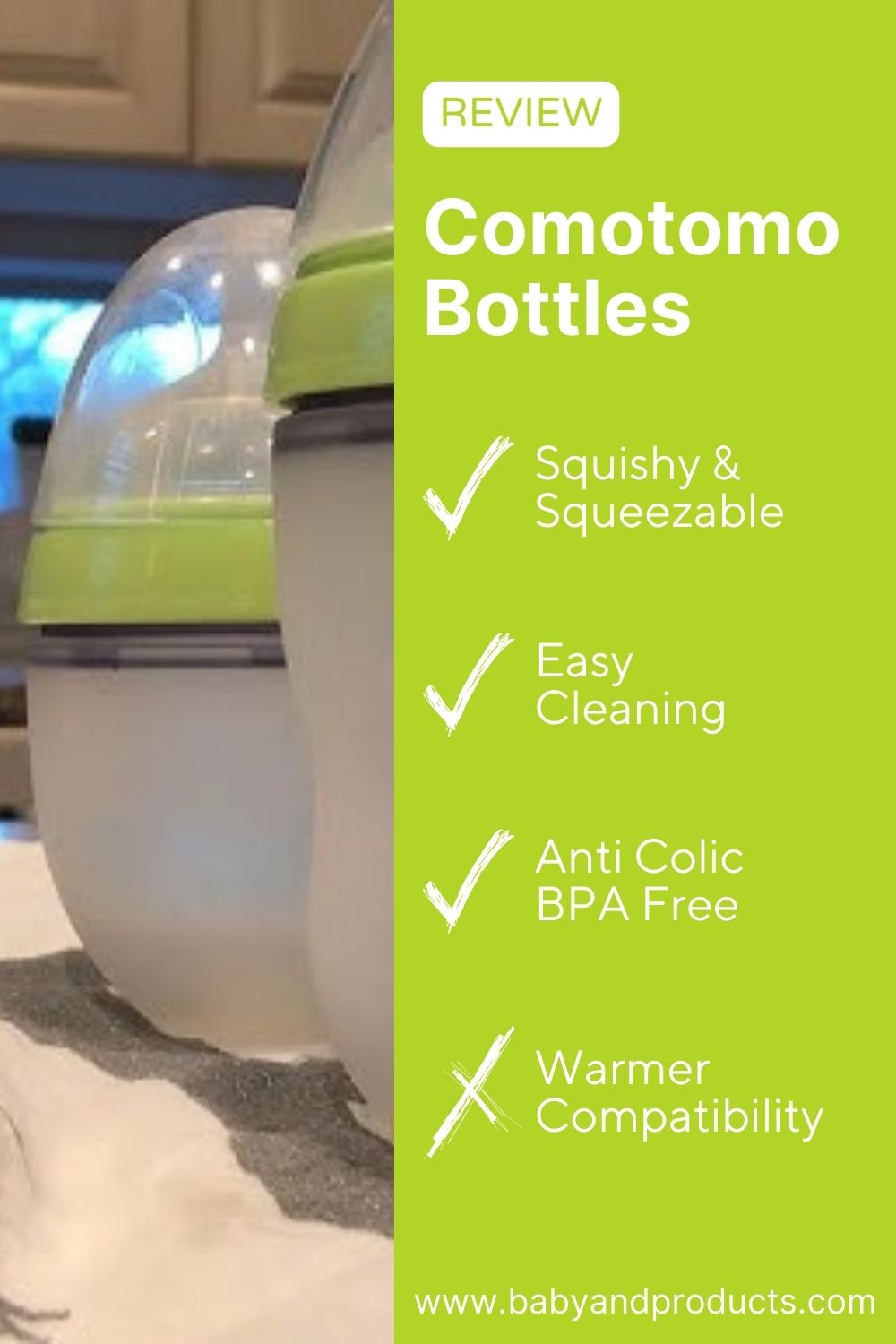 Summing up…
My experience with the Comotomo bottle has been largely positive. These bottles offer an innovative approach to feeding, making them a strong contender in the baby bottle market. While there were a couple of hiccups along the way, such as the occasional nipple collapse, the overall benefits of the soft, silicone design, easy cleaning, and reduced air intake far outweighed the minor inconveniences.
As a parent, I believe it's crucial to consider your baby's specific needs and preferences when choosing a bottle, but Comotomo has certainly made its mark as a contender for those seeking a natural and comfortable feeding solution.
Recommended alternatives
Parents Also Ask
Do the Comotomo bottles leak?
The design and grip of the Comotomo ring cap are strong and perfect, and no matter how you keep or toss the bottle, the milk will not spill out.
Can I get replacement parts?
Yes, you can get replacement parts for Comotomo bottles from any superstore or reliable online shop.
How do I prevent mold from getting in the Comotomo bottles?
Wash and air dry the bottles immediately after every use. This way, you can stop the mold from getting and growing inside or around the milk bottle.