Looking after an infant can be challenging for first-time parents, especially regarding feeding. As the baby develops, their needs also change, and a slow or fast nipple flow could cause colic, gas, or upset them.
To help parents tackle this situation, Dr. Brown offers a range of nipples with varying flow levels that adapt to adjusting the food demands of your growing baby. In this piece, we'll delve deeper into Dr. Brown's nipple flow and why it should be a crucial factor for parents to consider.
Everything you need to know about Dr brown nipple flow
An essential factor to consider when selecting a bottle for your baby is the Dr. Brown nipple flow rate. This refers to how quickly the liquid comes out from the nipple and can play a role in creating an enjoyable feeding experience.
Dr. Brown has designed a selection of nipple flow levels, ranging from level 1 to 4 – with level 1 being the most sluggish and 4 being the quickest. This effectively caters to newborns and babies of different ages and needs in terms of feeding.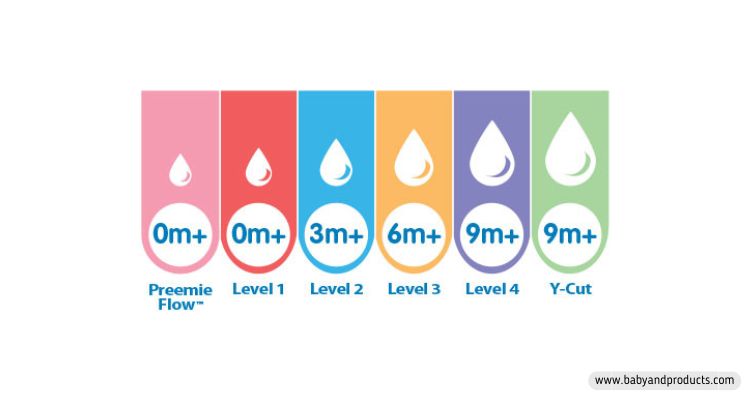 Types of Dr Brown's nipples 
The Dr. Brown bottle is especially well-known for its nipples, which come in different flow levels, making it possible to adapt to a baby's changing needs as they grow. That makes it a very essential aspect of the bottle. The followings are the different types of Dr brown nipples.
🍼 Standard/Narrow Nipples
Dr. Brown's Standard/Narrow bottles have a slender design with narrow nipples, preferred by some babies for a more complete latch. Pediatrician-recommended and commonly used in NICUs, these bottles feature specialized nipples with the same internal vent system as standard bottles. They offer various flow options to suit evolving infant needs, providing convenience and comfort.
🍼 Wide-neck Nipples
Wide-Neck bottles, resembling breast shapes with their sloped, broader nipples, are perfect for breastfed babies and those with wider latches. A study of 884 babies found that 93% accepted Dr. Brown's Options+ Wide-Neck Nipple, making them an excellent choice for breastfeeding infants. This wider design ensures a comfortable and familiar feeding experience, especially for babies with broader latches.
---
Parents also read: Best bottle warmers for Comotomo bottles
Ultra-Preemie™ Nipple
Dr. Brown's Ultra-Preemie™ Nipples have been designed keeping in mind the particular nutrition needs of premature and deficient birth weight infants. They give these babies nutrients to help them grow and develop properly. These specially designed nipples have a slow, steady flow which is ideal for premature infants.
It allows them to learn how to breastfeed at their own pace without getting overwhelmed or frustrated. The ultra-small and slow design helps the baby adjust and develop the necessary oral feeding skills. Ultra-Preemie™ Nipples, made from soft high-grade silicone, are compatible with all Dr. Brown's bottles, making them an easy and trustworthy choice for parents of premature babies.
✔️ The slowest of slow flow nipple rates available in the Dr. Brown's® Medical line
✔️ Often the first choice of medical professionals with very premature or medically fragile infants
✔️ Appropriate when the flow rate of a Preemie Flow™ nipple is trialed, and the infant continues to show stress signals
---
Preemie Flow™ Nipple
Developed by Dr. Brown, the Preemie Flow™ Nipple is tailored explicitly to premature babies who require a paced feeding experience. The flow rate of the preemie nipple is slower than regular nipples, allowing these infants the chance to feed at their own pace without feeling overwhelmed.
The Preemie Flow™ Nipple is designed to be as soft and comfortable to use as possible. It has the same internal vent system as Dr. Brown's regular bottles and is constructed from high-grade silicone material for optimum durability and quality.
✔️ Consider using this nipple for a premature infant's first oral feedings or if an infant exhibits feeding stress signals that a higher flow nipple is too fast
✔️ Often a good choice for newborns and infants who feed at the breast and are receiving supplemental bottle feedings
---
Parents also read: How to wash baby bottles in a dishwasher?
Level T Nipple
Dr. Brown's Level T nipple is specially made for babies with cleft palate to make feeding more comfortable and practical. It has a distinctive shape and adjustable flow rate, so babies can benefit from it. Furthermore, this product is also suitable with all standard Dr. Brown's bottles.
✔️ For use with infants requiring a slower fow nipple than Level 1 or needing to transition from the Preemie Flow™ level nipple to a higher flow nipple.
✔️ Often useful for full-term infants who are breastfeeding and receiving supplemental bottle feedings.
---
Level 1 nipple
This slow-flow nipple is perfect for newborns still getting used to breastfeeding. It helps them adjust to breastmilk by providing a controlled and gentle flow like the natural flow of breastmilk.
✔️ This nipple is chosen for the more mature feeder who demonstrates consistent, efficient feeding skills and is taking larger volumes of milk
✔️ Not typically suggested for infants who are also breastfeeding, unless specifcally recommended by a lactation consultant or medical professional
---
Level 2 nipple 
This level 2 nipple is ideally suited to the needs of 3-month-olds and above. This nipple offers a faster flow rate than the previously mentioned Level 1. This should satisfy your little one's growing appetite with ease.
✔️ Consider use if infant has established feeding skills, is sitting up with assistance or without support, and/or taking solids such as rice cereal and stage 1-2 fruits and vegetables from a spoon
---
Parents also read: How to clean cloudy baby bottle nipples?
Level 3 nipple 
The nipple of this level is the perfect fit for babies aged 6 months or older. It features a medium flow rate, higher than level 2 nipples, and can be adapted to suit your baby's growing appetite.
✔️ Consider use if infant has established feeding skills, is sitting up with assistance or without support, and/or taking solids such as rice cereal and stage 1-2 fruits and vegetables from a spoon
---
Level 4 nipple
Perfect for 9 months and older babies, this flow nipple supplies an optimum flow that's not too fast nor too slow. Additionally, it helps them coordinate the rate of liquid intake as their mouth and tongue muscles become stronger. This is also known as the y-cut nipple, as it has a y-shaped cut on it.
✔️ Select this nipple level flow for an infant with advanced feeding skills and is taking larger amounts at breast or bottle, or is transitioning to finger foods and cup drinking
Parents Also Ask
Why do Dr Brown nipples collapse?
Dr. Brown's nipples may not function correctly while feeding, which could be due to various reasons. One of them is the malfunctioning of the vent system. This venting system, when working correctly, lets air in and prevents a vacuum from developing, thus reducing colic & gas issues in babies. When the ventilation system isn't functioning correctly, the vacuum pressure can cause the nipple to collapse.
How to know the nipple size of dr brown nipples?
When deciding which nipple size is best for your little one, consider their age, the frequency of feedings, and any health conditions they may have. This information will help you decide what is most suitable for their needs. When it comes to babies, the flow rate of their bottles should be regulated depending on their age. For infants younger, a slower flow rate may be more suitable to prevent choking and help with digestion. On the other hand, older babies would need a faster flow rate to meet their feeding needs.
How Will I Know When to Switch Bottle Nipple Sizes?
If your baby has trouble finishing a feed, it may be sucking on the bottle harder or softer than usual. Additionally, colic or abdominal discomfort could be causing them to take longer than usual during feedings. Spitting up more and appearing hungry or unsatisfied despite eating can also point toward this issue.