New parents can find it hard to warm up bottles quickly and safely for their little ones. But don't worry – Boon Orb bottle warmer is here to take away your troubles. It ensures that you don't have to constantly juggle between the microwave and warm water, making things easier in an instant. This smart bottle warmer offers a fast, convenient and stress-free feeding experience for both you and your baby. Its compact and stylish design makes it a great addition to any nursery.
Who is it for?
Boon Orb bottle warmer can be used by old and new parents alike. The warmer's easy features make it the perfect match for the first time parents who are finding it hard to juggle all their new responsibilities, whereas old parents who want to be efficient and provide the safest warm milk to their babies can also use the Boon Orb Bottle. 
Features of Boon Orb Bottle Warmer
The Boon Orb bottle warmer contains multiple eye-catching features. Some of these features are as follows:
Compatibility
Boon Orb bottle warmers can fit multiple bottle shapes and sizes, including the ones with a wide mouth which makes it one of the most compatible bottle warmers out there. On the other hand, the narrow-necked bottles are also compatible with the Boon Orb bottle warmer. Furthermore, you can also use it with any kind of disposable or silicone bottles.
Heating Method
Boon Orb bottle warmer allows you to warm the milk for your baby in the easiest possible way. It uses a steam bath system in order to heat up the milk in a safe and thorough manner.
Timing & Warming Efficiency
The Boon Orb bottle warmer is incredibly efficient; it usually requires only 3-4 minutes to heat up a bottle, ensuring your baby's feed is always warm and ready. Specifically, it can heat the milk up to 91-92F in under 4 minutes. With a timer and an automatic shut-off, this bottle warmer provides parents with ease of use and convenience. On top of that, it safely  heats bottles in an efficient manner, and its compact size makes it ideal for those who are always on the move.
Health
The Orb has a special steam heating system that eliminates the need for using microwaves or hot water to heat bottles. This helps keep essential nutrients intact in breast milk and baby formula, making it a better, safer choice for feeding your child. It is built from BPA- and phthalate-free components, thus guaranteeing your baby's safety and overall health.
Design
The Boon Orb bottle warmer is undoubtedly one of the most cute-looking warmers and contains a sleek and modern look.
We recommend it to all the parents who want an aesthetically- pleasing countertop.
Ease of Use
The Boon Orb bottle warmer is user-friendly and its design is highly efficient. It also has an intuitive built-in timer that ensures you can warm bottles quickly. The unit will switch off automatically when the milk reaches the desired warming temperature. This feature will help prevent overheating.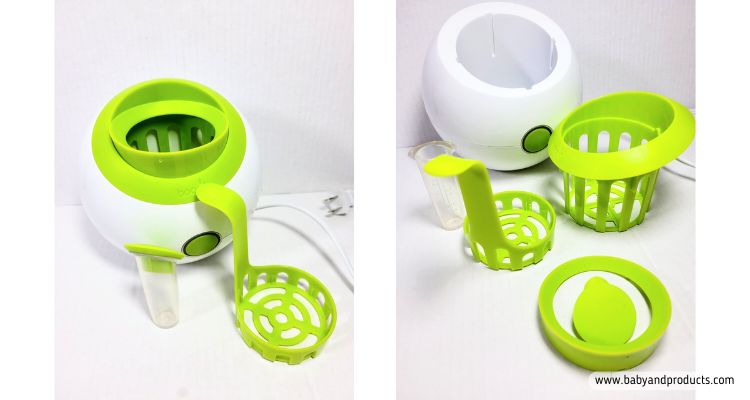 Ease of Cleaning
We have oftentimes encountered warmers that are difficult to clean but cleaning the Boon Orb bottle warmer could not be simpler – its steam chamber is removable and, therefore, can be tossed into the dishwasher for a thorough sanitization. Moreover, we recommend cleaning the outer surface with a baby wipe, every now and then. 
Safety
The Boon Orb bottle warmer is crafted carefully from non-toxic materials like BPA-free and phthalate-free for the safety of your precious little ones. Plus, it has an auto shut-off system that helps prevent overheating.
Price
Parents on a budget can go for the Boon Orb bottle warmer as it provides great value for money compared to other bottle warmers in the same price range.
Additional Features
The Boon Orb bottle warmer is a great choice for moms and dads who need to be constantly on the move. Its small size makes it an ideal pick, while it can also warm baby food jars and has a basket for pacifiers and other tiny items.
Reasons to buy a Boon Orb bottle warmer
Multiple reasons can prove that the Boon Orb bottle warmer could be a great investment for you. 
Convenience
Boon Orb bottle warmer is easy to use and clean. It has the efficiency to quickly warm up the milk bottle in just a few minutes, so your hungry baby does not need to wait longer for the milk.
Versatility
The Boon Orb bottle warmer can fit multiple bottle sizes and shapes. It gives you the freedom to use the bottle brand of your choice. 
Health and safety
Boon Orb bottle warmer is made of a BPA-free material and food-grade materials. That is why it is completely safe to use for your baby's health. The automatic switch-off feature helps to prevent overheating and saves the important nutrients and enzymes in the milk. 
Reasons to avoid Boon Orb bottle warmer
While this bottle warmer is becoming famous and parents' favorite for many reasons, there are a few reasons that you might want to avoid buying it. So, before you make a purchase, you must go through the following reasons and decide if this unit is the right fit for your needs:
Price
If your priority is a bottle warmer you can afford easily, then the Boon Orb bottle warmer is certainly not for you. Boon Orb bottle warmer is comparatively more expensive than other bottle warmers. We recommend checking out these bottle warmers, Bear bottle warmer and Dr. Brown's Insta Feed bottle warmer, if you are on a tight budget.
Water mess
When you choose the water bath warming system, there is always a water mess after the process. The water spills and splashes sometimes out of the warmer, making your kitchen counter wet. The water mess only increases the difficulty in cleaning for you. 
Limited capacity
If you have twins at home, there are better bottle warmers than the Boon Orb bottle warmer, as it can only accommodate one bottle at a time. If you have to warm multiple bottles simultaneously, you might want a more generous bottle warmer that can fit two or three bottles simultaneously. Check out the Grownsy Twin bottle warmer for a better option for your twins.
Noisy operation
The Boon Orb bottle warmer can fit multiple bottle sizes and shapes. It gives you the freedom to use the bottle brand of your choice. 
How does it work?
The Boon Orb bottle warmer is a convenient and straightforward machine to use. Following are some tips to get started:
Add water inside the warming chamber and switch the Boon Orb bottle warmer on. 
Choose the heating option according to your preferences and let the warmer heat up. 
Now place the milk bottle inside the warming chamber and wait for a few minutes for the warmer to heat up the bottle to the desired temperature. 
Once the heating cycle is completed and the milk is warmed up, the bottle warmer will switch off automatically. 
That is why the chances of overheating and the formation of hot spots are eliminated.
Important Safety Guidelines
To ensure safe and effective use of your Boon Orb bottle warmer, please keep the following factors in mind:
Check the water level: Always make sure that there is enough water in the warming chamber before use. If there isn't enough water, it could cause serious damage to the machine or the bottle.
Supervise the warming process: Never leave the warmer unattended while it's in use. Keep an eye on the warming process to ensure that it doesn't overheat or malfunction.
Thaw frozen milk/bottles first: Do not put frozen milk or bottles directly into the bottle warmer. Always thaw them first at room temperature or in the microwave before placing them inside the warmer. This will prevent damage to the machine and ensure that the milk is heated evenly.
You can use your Boon Orb bottle warmer safely and effectively to warm up your baby's bottles just by following these safety guidelines.
Recommended Alternatives
Parents Also Ask
Can I warm up frozen breast milk in a bottle warmer?
There are a lot of water warmers that can warm up frozen breast milk. However, you must defrost the frozen breast milk before putting it inside the warmer. 
Is leaving a bottle in the Boon Orb bottle warmer safe overnight? 
It is never safe to leave the bottle inside any bottle warmer overnight. Most bottle warmers contain automatic switch-off features to prevent overheating, but it is never ideal to leave the bottle inside the warmer for longer hours. It can lead to a potential fire or can cause the milk to spoil. It can also damage both the milk bottle and the warmer. The best way to use a bottle warmer is to use it only when your baby is ready for their next meal. 
Can a bottle warmer be used with glass bottles?
Only some bottle warmers are suitable for glass bottles because most bottle warmers are specially designed to only work with plastic bottles. However, it is always crucial for you to check the manufacturer's instructions to see the specific bottle material that the warmer supports.