Baby monitors have become an essential part of parenting in the past few decades. These pieces of technology allow parents to keep an eye on their babies at all times. If you're a new parent and you're looking for the best long range baby monitors to help you keep an eye on your little one, even when you're at a distance, then continue reading to the end. Not only do I review 8 of the best long range monitors, but I also share how to pick the right one for your baby nursery and help protect the baby.
The best long-range baby monitors
Whatever allows you to move around while still keeping an eye on your baby is a blessing, in our opinion. But our needs vary, and research never hurts, so it's best to know the product before you buy it. So I composed a list of 8 long-range baby monitors, each of which is the best of its kind.
#
 Image
 Model
 Features
  Our Rating
 
1.
Bebcare Hear Audio Baby Monitor
✔️ Breathing Sensor
✔️ Night Light 
✔️ White Noise Silencer
⭐⭐⭐⭐⭐
Buy from Amazon
2.
Panasonic Baby Monitor
✔️ 2-Way Talk
✔️ Soothing Sounds
✔️ Smart sensors
⭐⭐⭐⭐
Buy from Amazon
3.
VTech DM221 Audio Baby Monitor
✔️ Vibrating Sound-Alert
✔️ Talk Back Intercom
✔️ Night Light Loop
⭐⭐⭐⭐
Buy from Amazon
4.
Infant Optics DXR-8 PRO Baby Monitor
✔️ Active Noise Reduction
✔️ Interchangeable lenses
✔️ Zoom up to 6x
⭐⭐⭐⭐
Buy from Amazon
5.
Nanit Pro Smart Baby Monitor
✔️ 2-Way Audio
✔️ Night Vision
✔️ Includes Breathing Band
⭐⭐⭐⭐
Buy from Amazon
6.
AngelCare AC701 Touchscreen Movement and Sound Monitor
✔️ Touchscreen
✔️ Movement and Sound Monitor
✔️ Includes sensor pad
⭐⭐⭐⭐
Buy from Amazon
7.
BabySense Split Screen Video Baby Monitor
✔️ Adjustable Night Light
✔️ Two-Way Audio
✔️ Two cameras
⭐⭐⭐⭐
Buy from Amazon
8.
VTech VM321-2 Safe & Sound Video Baby Monitor
✔️ Night Vision
✔️ Two Cameras
✔️ 2-way audio
⭐⭐⭐⭐
Buy from Amazon
💡Manufacturers test the spectrum of their products in what is known as an open field range, which means space and no barriers. That's not relatable to what we have to deal with in real life! We have walls, doors, and other household items between the monitor and the transmission unit near the baby. Thus the accurate range will likely be shorter than the claimed open field capacity.
1. Bebcare Hear Audio Baby Monitor
Specifications:
| | |
| --- | --- |
| Material: | N/A |
| Product Dimension: | 86.61 x 86.61 x 35.43 inches |
| Range: | 2000ft |
| Style: | N/A |
| | |
| --- | --- |
| Display Size: | No screen |
| Display Type: | Audio |
| Power Source: | Battery powered |
| Battery Life: | 65 hours |
The Bebcare Hear audio baby monitor is a literal homage to its price. It is the longest range baby audio monitor with ultra-low emissions. The device comes with a unit for each parent and baby and broadcasts crystal clear audio up to a distance of 2,000 feet, so you can rest assured that your child is safe if you tend to your duties at the far side of the house.
Other than a starry night light and melodies to put your baby to sleep, an optional sensor allows you to monitor your child's respiration at night. Plus, the white noise silencer ensures that you are not kept awake at night by background noises and rustling.
The parent unit's 5-level sound indication reveals the sound level in the baby's room, including a configurable vibration when sounds are detected, allowing you to monitor sound levels even while the device is muted.
Other than that, rechargeable batteries enable up to 70 hours of standby time on a single charge. With crystal-clear reception and other convenient elements in the bebcare hear baby audio monitor notify you on the baby's well being.
Lastly, the device has a clip-on monitor, which makes it better accessible if you're busy, and a 2-way audio walkie talkie feature to comfort the baby if far away.
Reasons to buy
With a battery life of more than 65 hours, this baby monitor has the most extended battery life on the market.
It has a breathtaking starry night light
It allows Voice activation using VOX
It has Room temperature, lullabies, and feeding reminders
Data transfer is entirely secure. No possibility of hacking
Reasons to avoid
It cannot be connected with a smartphone
It does not have a pocket-friendly price
Final Verdict
Some people complain that it should've been a video monitor and not just play audio. And with that earth-shattering price, it's hard to disagree. But it's a 2000 ft range baby monitor and works like a dream. Plus, they have additional features to soothe your baby and the long battery life? Maybe not the first one we'd recommend if you're on a budget, but we will stand by this; the manufacturers knew what they were doing.
2. Panasonic Baby Monitor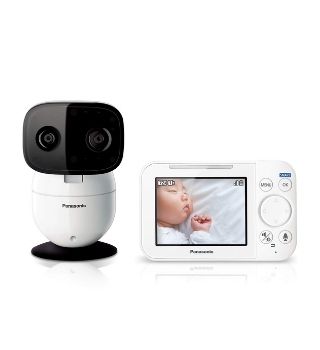 Specifications:
| | |
| --- | --- |
| Material: | Plastic |
| Product Dimension: | 7.2 x 5.2 x 6 inches |
| Range: | 1500ft |
| Style: | Camera + Monitor |
| | |
| --- | --- |
| Display Size: | 3.5 inches |
| Display Type: | LCD |
| Power Source: | Battery powered |
| Battery Life: | 5-13 hours |
Panasonic Video Baby Monitor is the most impressive long-range baby monitor video on the market these days now. It is built with robust DECT technology to provide straightforward, secure, and interference-free signal strength up to 1500 feet.
In addition, this is a 2-Way audio monitor, which means it features a two-way communication mode in which you hear and respond to your baby from anywhere in the house. What's so impressive about this one is that Your child can listen to your voice clearly, as if you were in the room.
Furthermore, There are also soothing sounds built-in, such as five different types of white noises and a selection of lullabies, to assist your baby fall asleep. and no need to be concerned about room temperature because this device includes intelligent sensors and customizable alerts that notify you when the temperature rises or falls outside of a preset range. Aside from temperature monitoring, you may also set sound and motion alerts.
It also comes with a 3.5-inch color monitor and controls that sync with a wide-eye, wall-mountable monochrome night-vision camera, as well as a button on the monitor that allows you to rotate, tilt, and zoom to obtain a better view of your youngster.
In addition to audio and camera monitoring and an extra-long range, it features a long-life built-in battery. Moreover, It has a standby time of up to 13 hours and a continuous monitoring time of 5 hours. This monitor is the most prolonged range baby video monitor available.
Reasons to buy
It has Smart sensors and alarms that you can customize
Audio is transmitted in both directions between the monitor and the camera.
Functions for remote control (pant/tilt/zoom)
Camera with improved monochrome night vision
It has a Battery life of up to 13 hours (on standby mode)
Reasons to avoid
It allows you to view only one camera at a time.
There is no built-in night light to aid the infant's sleep or enable the parent to view the baby.
Doesn't allow you to view video from a mobile device
Final Verdict
It is one of the top recommendations and the best overall choice because it has excellent features, is less pricey, and has an extended range if you require a very long-range monitor. Which means you'll have twice the range of most comparable monitors. So, taking all the features and functions into consideration, we call an overall pretty neat product.
3. VTech DM221 Audio Baby Monitor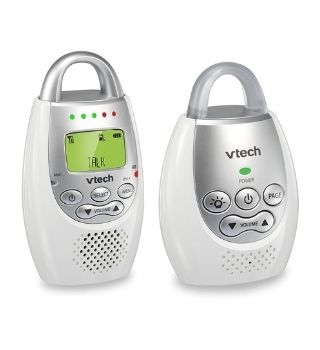 Specifications:
| | |
| --- | --- |
| Material: | N/A |
| Product Dimension: | N/A |
| Range: | 1000ft |
| Style: | Monitor + Parent UI |
| | |
| --- | --- |
| Display Size: | No screen |
| Display Type: | Audio |
| Power Source: | Rechargeable batteries |
| Battery Life: | 16 hours |
This long-range baby monitor is loaded with functions, including a DECT 6.0 technology that enables a good quality transmission of your baby's everyday activities and removes white noise, providing uninterrupted, crystal-clear audio.
It includes both a child and a parent unit and has a range of roughly 1,000 feet. Unlike most typical audio-only baby monitors, this model comprises built-in two-way audio, which can benefit specific scenarios. 
Furthermore, the parent unit's 5-level sound indicator-graphic bars make it simple to regulate the amount of sound in your baby's room. With its two-way, back intercom, your child may still sense your presence through your voice even if you are in a different room.
Other than that, The vibrating sound alert sends a clear signal to the parent in response to any sound or activity from the baby. The loop on the infant unit also serves as a calming night light. Additionally, a belt clip is included to make it more accessible and manageable. It also features an alarm feature that allows you to programme the parent unit to beep during the lost connection between the parent unit and the baby unit. 
And Finally, you don't have to be concerned about the unit's usage time because it lasts up to 18 hours or alerts you if the battery needs to be recharged.
Reasons to buy
DECT 6.0 technology provides excellent audio.
Talkback functionality is available.
The nursery unit has a nightlight.
Reasons to avoid
The nursery unit does not have a battery option.
The parent unit's screen lacks illumination, making it difficult to see at night.
Final Verdict
This monitor is for those who prioritize audio over video. In that case, This is hands down the best baby monitor. This baby monitor has an excellent range but is super cheap. It's perfect if you're a busy parent because it can be attached to your clothes too if you want to carry it along with you everywhere you go.
4. Infant Optics DXR-8 PRO Baby Monitor
Specifications:
| | |
| --- | --- |
| Material: | Plastic |
| Product Dimension: | -11.77 x 5.24 x 4.25 inches |
| Range: | 700ft |
| Style: | Interchangeable lens |
| | |
| --- | --- |
| Display Size: | 5 inches |
| Display Type: | LCD |
| Power Source: | Specific batteries (incl.) |
| Battery Life: | 12 hours |
Even though the Infant Optic's range isn't as comprehensive as other long-distance baby monitors, the 700 ft range cannot be considered short either. This monitor is one of the best-selling baby monitors, with over 1 million satisfied customers. 
With a clear 5-inch color LCD monitor and precise sound quality, you can watch your kid from anywhere in your house. The high-quality camera is controlled by the monitor, allowing you to zoom, pan, and tilt across 170 degrees for a complete view of the nursery. You may add up to four cameras to your setup for even more coverage.
 Furthermore, This camera comes with a standard and zoom lens, so you may quickly and easily add a wide-angle lens. The wireless transfer between the camera and monitor is limited to 2.4 GHz to safeguard your privacy.
The temperature meter and two-way talkback are also valuable features. It features a lithium-ion battery and even comes with a spare, which you can charge and keep ready for when you need to swap out batteries. The battery life is limited to 12 hours, but it can provide a 24-hour backup when both batteries are cycled.
Lastly, The monitor has infrared night vision and an LED light that alerts you to noises like your baby's crying. Plus, an alarm mechanism alerts you when you are out of range, preventing you from going too far and missing something critical.
Reasons to buy
Battery life is sufficient.
Lenses for cameras are interchangeable.
If necessary, or while the screen is turned off, you can use audio-only mode.
Reasons to avoid
It has an irritating beeping sound
It has a poor night mode
The scan mode is not sufficient
Final Verdict
A good baby monitor is judged by the number of parents who trust its ability. This one seems to be an all-time crowd favorite. Because the connection is not dependent on wifi, You won't have to worry if the internet goes down. Plus, This monitor cannot be breached by hackers.
The corporation that manufactures this monitor has specialized in producing baby monitors. The company collects feedback from parents and considers what characteristics are crucial to them. So it's all that you would ask for in a baby monitor.
5. Nanit Pro Smart Baby Monitor
Specifications:
| | |
| --- | --- |
| Material: | Plastic |
| Product Dimension: | 3.3 x 3.5 x 1 inches |
| Range: | Unlimited |
| Style: | Camera + Wall mount |
| | |
| --- | --- |
| Display Size: | No screen |
| Display Type: | Smart phone |
| Power Source: | Plugged-In |
| Battery Life: | No battery |
The Nanit Smart Baby Monitor also provides an exceptional bird's eye view, allowing you to monitor and examine every nook of the crib or baby bed. You can also get real-time sound and motion notifications to keep you updated every second of the day, as well as an HD live feed on your phone whether you're in the next room or far away.
With two-way audio, you can hear or speak to your kid. Enjoy background audio while using other apps or even while your screen is turned off. With configurable sensitivity, you will obtain on time sound and motion notifications. In addition, it keeps an eye on the nursery's temperature and humidity to ensure that the baby is comfortable.
No doubt, safety comes first when it comes to your child. The Nanit Smart Baby Monitor incorporates a flexible cable management system that keeps all loose connections out of reach of curious young hands.
 Plus, Nanit sends you your baby's sleep analytics every morning, as well as a timelapse montage of their sleep, allowing you to review their whole night in seconds as well as automatically capture your baby's best moments in your app. From your Nanit app, you can also get individualized, science-backed sleep advice and tips from the world's most excellent pediatric sleep experts.
Lastly, once you've connected to wifi, the Nanit Smart Baby Monitor will work even if your internet connection is down, so it doesn't require wifi to work all the time. Your data is protected by 256-bit encryption, and your account is protected by two-factor authentication. It allows you or your partner to access your webcam and set user permissions accordingly.
Reasons to buy
It works even if the internet isn't
You Get real-time HD feed and motion sensor
It has a gradually dimming light
Includes a temperature sensor
Reasons to avoid
The camera only shifts manually
Many people have faced daunting connectivity issue
Final Verdict
The nanit plus baby monitor is a staple for its price. Technically it is the longest range baby monitor because of its unlimited field range. However, it's mostly recognized for its distinct features and masterful execution. 
The manufacturers of this monitor have gone above and beyond to present a statement piece. Thus it's safe to say that it is the most advanced baby monitor out there. If the connectivity issues are fixed, it will be well worth the price it's sold for. 
6. AngelCare AC701 Touchscreen Movement and Sound Monitor
Specifications:
| | |
| --- | --- |
| Material: | N/A |
| Product Dimension: | 10.5 x 4.1 x 9.9 inches |
| Range: | 820ft |
| Style: | Touch-screen |
| | |
| --- | --- |
| Display Size: | 3.5 inches |
| Display Type: | LCD |
| Power Source: | Battery |
| Battery Life: | 3.7 hours |
The AngelCare AC701 baby monitor is distinguished by the presence of an under-the-mattress Sensor Pad, which can alert your baby's movement and when it hasn't moved in a while.
In addition, The Angelcare AC701 includes a fully-equipped monitoring device that not only detects movement but also hears the sound. It also consists of an adjustable night light that you can control from your portable Parent Unit.
The Audio "Tic" Feature will provide the reassuring sound of a faint ticking sound confirming your baby monitor is still working, even if your infant appears to have gone too quiet. Plus, a low-battery indicator reminds you when to change the batteries. How convenient!
Other than that, it features an out-of-range indication that alerts you when you step outside the 820 open field range. But what if you lose your parent unit? Well, with the push of a button, angelcare AC701 has made it extremely easy to locate. We wish we had this feature for everything in our home. What? Things change when you get old, okay! You'll see.
Anyways Moving on, You can use your two-way walkie-talkie feature from that Parent Unit to communicate to your baby if they become restless while sleeping. Or you can use the mute function to block your voice from the parent-baby interaction if you are being too loud.
Reasons to buy
It includes a talkback feature
It Has an 820 ft range.
Quickly detects Various parameters precisely.
Reasons to avoid
The battery life is short, plus you need to purchase batteries
It is super expensive
Final Verdict
It's the best long-range baby monitor for premature babies. The Sensor Pad's adjustable sensitivity allows you to choose the appropriate movement sensitivity level for your needs. The intelligent features of the Parent Unit include an out-of-range indicator, a location feature, proper lighting, a low battery alert, and much more. 
Well, what more could you ask for? AngelCare has proven to be a blessing for many families and can be a helpful addition to yours too. If you disregard the hefty price, it's a must-have if you have anxiety or fear of SIDs.
7. BabySense Split Screen Video Baby Monitor
Specifications:
| | |
| --- | --- |
| Material: | N/A |
| Product Dimension: | 12.7 x 6.69 x 4.13 inches |
| Range: | 96ft |
| Style: | Dual camera + Split screen |
| | |
| --- | --- |
| Display Size: | 4.3 inches |
| Display Type: | LCD |
| Power Source: | Plug-In + Battery |
| Battery Life: | 8 hours |
BabySense has a maximum transmission range of 960 feet but a smaller screen (4.3-inch) with a split-screen option. As a result, you can watch two feeds from your two baby rooms at the same time.
Their technology allows you to speak or sing to your child when they want your undivided attention. You can also utilize the monitor's built-in lullabies with white noise to soothe them.
Plus, If you happen to move beyond the allowable limits, the monitor will issue a warning signal so that you can stay inside the boundary. It will also detect low-light conditions and automatically adjust to night vision, providing you with an explicit video of your child during day and night. 
The tilt and pan features provide 90-degree and 360-degree zoom and vision, respectively. The monitor will also notify you of the room temperature. This monitor offers a manual pan and tilt, as well as a 2x zoom. And When it's time to sleep, the infrared night vision mode will keep you from missing anything in your baby's room.
Lastly, If you're concerned about your child's safety, the monitor employs hack-proof 2.4GHz FHSS technology. This baby monitor comes with both the parent unit and the two cameras set up. So Because the cameras are preloaded, connecting them will be straightforward.
Reasons to buy
It is financially reasonable 
 it has excellent video and audio quality
Setup and use are simple.
White noise sounds and lullabies are tremendous benefits.
Reasons to avoid
The green light is frightening for kids
The battery life isn't sufficient
Final Verdict
Many parents look for a monitor that allows them to watch their kids from different angles and two little kids. The battery life is only eight hours, which may not be enough for your youngster to gain a seamless night's sleep. However, the machine features an eco mode that saves energy. Once enabled, the unit will only turn on when sound is detected.
The BabySense baby video monitor is a great way to access more than one view at a time.
8. VTech VM321-2 Safe & Sound Video Baby Monitor
Specifications:
| | |
| --- | --- |
| Material: | Plastic |
| Product Dimension: | 9.5 x 3.8 x 9.2 inches |
| Range: | 1000ft |
| Style: | 2 Cameras + Monitor |
| | |
| --- | --- |
| Display Size: | 2.8 inches |
| Display Type: | LCD |
| Power Source: | Rechargeable batteries |
| Battery Life: | 3.5 hours |
The VTech Safe & Sound long-range Video Baby Monitor has a 1000 feet range, a 2.8″ LCD monitor and two cameras, allowing you to select a split view if you have two kids or want to set two different angles.
It comes with three operating adapters and a wall mount bracket. The parent's monitor has a rechargeable battery, but it does not have AA batteries for the nursery device.
This long-range baby monitor walkie talkie has two-way communication capabilities, enabling you to comfort your baby from a distance or play one of the five lullabies provided with the camera. It also has infrared vision and an adjustable lens.
The alarm system alerts you if the temperature varies, has low battery or interrupted connections. Furthermore, it needs to be charged for 12 hours straight before using it for the first time. 
It has a battery life of only 3.5 hours compared to other similar devices; hence, you should constantly plug it into a charger at night. Lastly, It does not rely on an internet connection or a smartphone app, so it's safe from digital threats or hackers.
Reasons to buy
Is capable of canceling out background noise
It has a night vision option that allows you to keep an eye on the infant at night
Temperature sensors
It has an expandable system
Reasons to avoid
The battery life is short
The night light is very bright
Final Verdict
This long-range, non-WIFI baby monitor has many competent features and is worth the price. The few things that this device doesn't offer in comparison to its high-end counterparts are negligible in value and make it a great purchase worth considering, especially for people looking for a budget option. People have a love-hate relationship with this baby monitor because while it serves a great purpose, it often faces connectivity issues. But overall, you get more than what you pay for.
Things to consider before buying a long-distance baby monitor
We understand that quality is vital for your kid – even in the simplest of equipment. In this analysis, we'll not only go over the key features of each long-range baby monitor on the market, such as size, type, frequency, range, and battery life. All of these factors influence the durability and cost of the monitor.
Types of baby monitors
All The monitors are segmented and specialized for various uses and intents.
Audio monitors
Audio monitors produce sound. These monitors use radio signals to allow you to hear unmistakable and precise sounds. The old audio baby monitor is rated as the most significant one if you are looking for the best long-range one. It can handle the internet and Bluetooth networking troubles, and You won't have to deal with frozen video streams either. With two-way audio, you can speak and comfort the baby or hear them too, even if you are a long-distance away. 
Video monitors
 While buying a video monitor, it's essential to pay close attention to the quality and resolution of each camera. Though the average standard is 720p, you can get a much higher rate if necessary. Video monitors typically provide two forms of video streaming. The first is over safe internet lines, and the second is via a direct route that is not connected to the internet. The video quality of these devices varies. 
Baby motion-sensing monitors
These monitors use unique sensors to monitor a baby's movement while they sleep and notify you of stillness that could indicate a problem. These gadgets can also monitor your child's temperature, respiration rate, and heart rate to provide you with a complete picture of their health.
WIFI baby monitors
Suppose You want to be able to watch your infant from any place without having to carry the receiver with you all the time. In that instance, WIFI baby monitors will come in handy because they have an unlimited transmission range and allow you to track your children via an app.
Non-WIFI baby monitor
Non-WIFI baby monitors are known for their secure transmission and low price range. Also, you will seldom experience any transmission delay with non-WIFI baby monitors. However, they might not allow you to access the camera through any smartphone app. The dedicated receivers or parent units are used to watch your kids.
Checking the important Components of long-range baby monitors
Whenever you choose a baby monitor, remember to read the manufacturer's description of the product to ensure that it is a good fit for your home and your parenting needs. The critical components are listed below:
Size of monitor
The baby monitor should be large enough to see the infant (if it has visual capabilities), and you should be able to watch the screen without difficulty. When it comes to range and moving it, size plays a huge role.
Size of your space
A long-range monitor is essential for a larger residence. The size is necessary when you tend to duties outside of the house. You can quickly get by with a shorter range if you have limited space.
Range
When it comes to longer distances, 900 feet or more is the ideal zone. Most baby monitors are wireless, which extends the monitor's range so you can move about while still staying connected to the baby's unit. However, if you live in a tiny space or an apartment, you can save a little money with shorter range monitors.
Frequency
Take into account the frequency and if it is reliable enough. Higher frequencies indicate that interference will be less. The frequency of a particular baby monitor will enable you to receive clean reception, free of interference and interruptions. It's ideal to choose a baby monitor that comes with at least a 2.4 GHz frequency.
Security
A long-range baby monitor needs to be secure. You must ensure that the connections to your baby monitor are sufficiently protected. You wouldn't want a stranger prying on your life or your child or get intercepted by nearby devices using the same frequency. DECT technology is an excellent way to tell if a baby monitor is secure.
Battery
The batteries are handy, but they are also the weakest cog in the wheel for most baby monitors. Some baby monitors use rechargeable batteries, while others must be hooked into a power outlet. Many monitors' batteries run out rapidly and have shorter life times. A baby monitor with a larger battery capacity is preferable because it can keep power for a more extended period, saving you time from frequent recharges.
Standard Features of a baby monitor
There are some useful features that parents look for in their baby monitors.
Signal alerts
The alarm isn't set to wake up the infant from their nap. This alarm is intended explicitly for you so that if you move out of range, the monitor will notify you promptly. It also informs you if there are changes in temperature, lousy connection or low battery.
Sound or movement reactions
Most baby monitors are built to recognize disturbing sounds or signs of irritation from your baby. Some baby monitors have intelligence that distinguishes between familiar irrelevant sounds. However, this feature needs more work and exploration to avoid glitches and excessive alerts.
Walkie talkie communication
This feature can be incredibly beneficial. Two-way communication, also known as two-way audio, refers to both the child and parent units having speakers and converse via audio. You can talk to your child and calm them with sound before you get to their room, or you can communicate with an adult who is already there.
Adjustments 
This feature can be quite beneficial if the parents want to adjust the view recorded by the camera. Remote adjustment capabilities on specific baby monitors allow users to control where the camera is aimed. This feature may come in handy when the baby grows into a toddler who enjoys exploring.
The VOX feature
This technology powers the sound-activation feature. Only the parent unit will be turned on by the VOX when it detects particular sound levels to respond to the baby unit. Plus, You can manage the sensitivity of the sound detection.
Night light
Some monitors include flashing lights that can be annoying. When purchasing a home monitor, you should take this factor into account.
Final word
So these are our picks for the best long-range baby monitors, and though there are a couple of great ones in the market, we listed the ones that we find compatible with an average buyer.
When it comes to childcare, a monitor can be your lifesaver. It'll allow you to get about your everyday life carefree and reduce the amount of time you waste worrying. A long-range baby monitor is your ticket to freedom.
Though they're not entirely reliable, they will give you the energy to continue working and sleeping as usual and not hover over your baby at all times. It's important to remember that these devices are still in their infancy, and while they can provide some peace of mind and convenience, they can never replace human contact.
Parents Also Ask
How far does a baby monitor reach?
The normal range for baby monitors is 500-1000 feet, although this is only possible if you're in an open area. A good baby monitor will usually function over a distance of 80m, whereas a poor monitor will only work over 20m. The thickness of the walls or scattered furniture also disturbs the range of the baby monitor.
How to get an extended range baby monitor?
Technically, you can replace the antenna within the baby monitor (but not the parent device) with a much better one. And that should give you an extended range baby monitor, but we'll advise against it. To begin with, investing in a long-range baby monitor is a much better option.
How do I prevent my Parent Unit's battery from draining quickly?
If the volume is turned up loud or the voice/movement sensitivity is high, the battery will drain quickly. To do so, decrease the book to an audible level and lower the sensitivity. If you have an LCD, you should also reduce the screen brightness.
How safe is a long-distance baby monitor?
The baby monitor is safe to use if you choose the right one. An excellent long-range baby monitor will allow you to move about your day while still keeping your eye on the kids, but we won't recommend relying on the monitor entirely. Other than that, you need to keep the monitor at a safe distance from your baby as well.